You're never alone if you have a good book. A good story, fiction or nonfiction, can open up the imagination for kid study website solving and critical thinking, or just for working through the tough spots in life.
A truly good story sucks you in, and opens up a whole new world. Download our quiz to guide you round our site OR if you've been on every page already test your knowledge! Finding it hard to understand the language of the net? SAFE Keep safe by being careful not to give out personal information when you're chatting or posting online.
Personal information includes your email address, phone number and password. MEETING Meeting someone you have only been in touch with online can be dangerous. Only do so with your parents' or carers' permission and even then only when they can be present. Remember online friends are still strangers even if you have been talking to them for a long time. RELIABLE Someone online might lie about who they are and information on the internet may not be true. Always check information with other websites, books or someone who knows. TELL Tell your parent, carer or a trusted adult if someone or something makes you feel uncomfortable or worried, or if you or someone you know is being bullied online.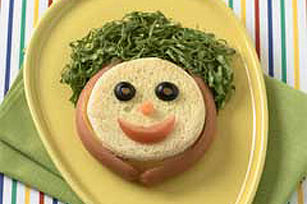 DISCLAIMER: In the interest of a safe, educational online experience. Notice to Copyright Agency under part VB of the Act. For details of the CAL licence for educational institutions contact: Copyright Agency. Crown or in reliance on one of the fair dealing exceptions i. Activities, games, and even kid snacks are an important part of making learning fun! Many of the publishers of themed Bible lesson materials are now including creative and fun snacks for children to enjoy while also enhancing the teaching theme.
Following are easy snack ideas and recipes to go along with various Bible themes and lessons. Just about anything yellow that a Minion eye can be attached to can become great themed kid snacks! Yellow Cups – Yellow paper or Solo cups can easily become a Minion snack holder filled with popcorn, trail mix, goldfish, etc. Banana Minions – attach an eye to a banana and cover the bottom with blue felt and "voila" you have a fun minion snack!
Jello Cups – One of my favorite though and probably easiest is attaching Minion eyes to Jello vanilla pudding cups or lemon jello cups! You may also add a variety of cereals, pretzels, or dried fruit. Of course you could also purchase commercial brands. S'mores – This brings back memories around campfires!
Heat a few seconds in the microwave and serve! Or  for a less messy option try S'mores pops by putting a marshmallow on a  stick, dip into melted chocolate and then roll in graham cracker crumbs! Prairie Dog Wraps – Instead of "pig-in-a-blanket", make prairie dog wraps by either wrapping a hotdog or small wieners in croissants and bake. 2 cup of Chinese noodles and 1 cup peanuts. Scoop out teaspoonfuls of hay stacks and place on cookie sheet covered with wax paper. Royal Jewels – String together jelly beans and Fruit Loops on dental floss to make edible necklace or bracelet. Use tiny decorating candies to use for jewels on the crowns.