Are you stuck between wanting to travel this summer but also wanting your children to continue their education throughout the summer break? Well with Time4Learning you can do both! Time4Learning, an award-winning online PreK-12th grade curriculum, can help your children avoid summer brain drain even as they relax and enjoy some additional free time. With Time4Learning, your children will retain what was already taught throughout the school year Online summer courses for kids build additional skills in math, language arts, science and social studies — helping them get ahead in the upcoming year.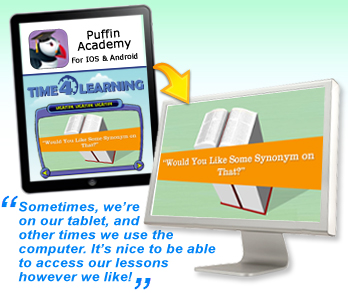 Online Summer Curriculum The Time4Learning program takes an entire year's worth of learning materials and continues it on throughout the summer so that your kids can retain what they've learned, catch up on what they haven't, and get ahead for next year. Time4Learning can also be used during the summer as an interactive skill sharpening tool or to try out a new homeschool program for next year. So no matter what your kids might need to brush up on this summer, you can find lessons, practice activities, and reinforcement materials in our flexible and affordable program! What Is Included In Time4Learning's Summer Program? An automated system grades lessons and tracks progress making record keeping simple. Affordable membership backed by a 14-day money-back guarantee. You can start, stop, or pause your membership at any time without penalty.
Language Arts Curriculum for Summer Time4Learning's language arts curriculum offers a great selection of lessons for summer learning. The high school English curriculum is organized into four individual courses. The courses have an emphasis on writing and higher order thinking skills. Courses are designed to help students achieve college and career readiness. Second graders learn to recognize the different letter combinations that create the "a" sound from the Phonics Puppets. Math Curriculum for Summer Learning Time4Learning's math curriculum is perfect for summer learning. It includes a combination of conceptual explanations, interactive activities and reinforcing worksheets that are presented by fun, animated characters at the student's pace.
After the animated intro, students are eased into activities teaching number sense, geometry, measurement, spatial reasoning and more. Here is a free math printable worksheet for your eighth grade student. Each course is designed to engage students in practical, real-life math problems and includes a combination of lessons, worksheets, tools, and assessments. Here at Frank's Fraction Pizzeria, 3rd graders learn about "parts of whole" from Frank and his employees.