Enter the terms you wish to search running marathon training plan. You may unsubscribe at any time.
So you want to run a marathon? 2 miles is an awe-inspiring accomplishment that requires commitment and dedication and that provides many rewards, not least of which is joining the . Most training plans call for 16 to 20 weeks of training. Here at Runner's World, we recommend that you have a base of a minimum of three to six months' worth of running four times per week. It's even better if you've been running for a year or more.
You should be able to comfortably complete a run of six miles. And you should have run at the very minimum a few 5K races. The key to successful marathon training is consistently putting in enough weekly mileage to get your body accustomed to running for long periods of time. Newer runners may start with 15 to 20 miles per week total and gradually build to a peak week of 35 to 40 miles.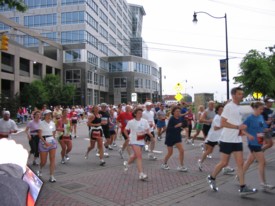 More experienced runners may start at 35 or more miles per week and peak at 50 or more miles. Spending the extra time on your feet helps prepare your muscles, joints, bones, heart, lungs, and brain for going 26. Most training plans build to at least one 18- to 20-mile long run. Your training plan may also feature weekly or biweekly speedwork, tempo runs, or miles at marathon pace.
Select a couple of long runs in the month or two before the race to use as "dress rehearsals. Get up and start running the same time you will on race day. Eat and drink what you'll eat on the day before, the morning of, and during your race the day before, the morning of, and during the dress rehearsal run. Wear the same shoes and clothing you plan to wear in the marathon.